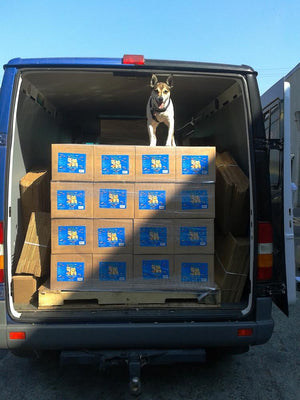 The Wildside Journey: Crafting the Original Freeze-Dried Salmon Treat
Our Journey at Wildside Pet Products: From Alaskan Waters to Local Doorsteps
In the heart of Alaska, where rivers run wild and salmon dance with nature's rhythm, Wildside Pet Products took root. With a family history in the wholesale fishing industry we were no stranger to the Alaskan waters' ebb and flow. But beyond the bustling fish markets, we held a dream close to our heart: to share the pure, untouched goodness of Alaskan salmon with pets everywhere.
From our inception, Wildside Salmon has been unwaveringly dedicated to the health and well-being of pets. Upon examining the industry, we were taken aback by the additives and fillers that found their way into many pet foods. This revelation only strengthened our resolve. We believed that our furry companions deserved better, purer, and simpler. Guided by this principle, we set out to craft a treat that was not only delicious but also a beacon of health and simplicity. Wildside Salmon stands as a testament to our commitment: a treat that's as wholesome as nature intended.
Armed with determination and our trusty van, we took to the road, delivering our carefully crafted products to locally-owned pet stores. Each delivery wasn't just a transaction; it was an experience. The joy of personally handing over our products, the shared stories with store owners, and the heartwarming sight of pets eagerly awaiting a taste of Wildside - these moments became the heartbeat of our brand.
The local small businesses, with their unwavering support and belief in our vision, have been our pillars. They've been there through our highs and lows, reminding us that dreams are worth pursuing, especially when you have a community cheering you on.
While we will always support boutique pet stores, Vets, Groomers and various other pet related small businesses, we now em'bark on a new journey to get to know our loyal customers directly, furry or otherwise! Know that each purchase of Wildside Pet Products helps keep the lights on in a humble American small business, and consistently drives fur family members across the world WILD one treat at a time.